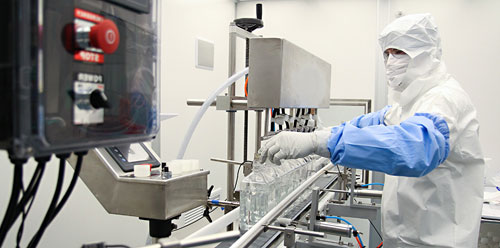 Panihati (West Bengal)
This Unit of BCPL is situated at Panihati, an exotic location near Kolkata just at the banks of River Ganga. This unit was set up in 1920. Today this unit is engaged in production of Industrial Chemicals like Ferric Alum, Bleaching Powder and Home Products like Pheneol, White Tiger, Naphthalene Balls and other disinfectants. The capacity expansion of Alum, Phenyl and all the other disinfectants were envisaged and expansion works for most of the units have been completed. Commercial production in most of the product-blocks such as Ferric Alum, Pheneol, Bleaching Powder and White Tiger have commenced.
The detailed production capacities of the units situated at Panihati are given below:
Sl.No.
Production Areas
Pack Size
Production Capacity
A
Industrial Chemicals
1.0
ALUM- FERRIC
[as per BIS Standard (IS 299-2012)]

22 Kg. (av.) naked slab

8000 MTPA

2.0
BLEACHING POWDER
500 gm. & 1 Kg. in HDPE container & 25 Kg. in Polybags.

400 MTPA

B
Home Products & Disinfectants
1.0
PHENEOL UNIT
[as per BIS Standard (IS 1061-1997)]

200 ml. & 450 ml. in Amber Glass Bottle; 5 Lit. & 20 Lit. In HDPE Jars

12000 KLPA

2.0
Composite Unit
2.1
NAPTHALENE
[as per BIS Standard (IS 539-1974)]

100 gm. In Pouch Pack; 200 gm. in Pouch & Carton Pack; 400 gm. in Carton Pack; 500 gm. Bricks in Polypouch; 1 Kg. in Pouch Pack.

144 MTPA

2.2
WHITE TIGER
500 ml. in PET Bottle; 5 Lit. & 20 Lit. in HDPE Jars.

1200 KLPA

2.3
KLIN TOILET
500 ml. in HDPE Container
2.4
LIQUED SOAP
5 Lit. in HDPE Jar.
2.5
LYSOL IP
5 Lit. in HDPE Jar.
Maniktala Factory (Kolkata, West Bengal)
Maniktala Factory of BCPL is situated at the heart of North Kolkata and located on a land area of 20 acres the Eastern Metropolitan Bypass which is the lifeline of road traffic of the City.
There are 8 production units at this factory and all of them are following Good Manufacturing Practise (GMP). The production capacities of these units are given below:
| | | |
| --- | --- | --- |
| Sl.No. | Production Section | Monthly Production Capacity |
|   |   | (Figures are of Single shift basis, can be multiplied to 2,3 shifts and capacity will increase accordingly) |
| 1 | Ointment | 5 lac tubes of 20 g |
| 2 | External Solution | 2000 lts |
| 3 | Capsule (Betactum) | 2 Lac Boxes of 10 X 10 |
| 4 | Dry Powder Injection (Cephalosporin & Betalactum) | 20 Lac Vial of 10/20 ml |
| 5 | Tablet ( Betalactum) | 0.50 Lac Boxes of 10X10's |
| 6 | Tablet (Non Betalactum) | 2 Lac Boxes of 10 X 10's |
| 7 | Hair Oil | 30 Kilo Litre |
| 8 | Perfumery( Aguru) | 1.25 Lac Bottles |
The factory is housed with sufficient storage capacity for In-house production and products received from manufacturers under loan license.This facility is equipped to manufacture most of the medicines which includes tablets and capsules and a modern R&D Facility. The divine perfume under the brand name Aguru and Cantharidine Hair Oil are also manufactured here.
The Company is commissioning three new units in this plant which will be dedicated to manufacture Betalactum Antibiotics, Cephalosporins, Injectibles and topical ointments. The facilities will be operational shortly.
Mumbai (Maharashtra)
The facility is located at Prabhadevi, the heart of our Business Capital Mumbai. Presently, this facility is utilized for Cantharidine Hair Oil. We have a R&D laboratory for Hair Oil situated at this plant. Apart from the plant, we have a large Commercial Complex situated at this premises.
Kanpur (Uttar Pradesh)
Our Kanpur Factory is in