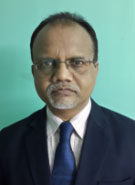 Mr.P.M. CHANDRIAH
Managing Director (Addl.Charge) & Director (Finance)
Congrats to Team BCPL for taking both production and sales to the highest level in the history of the company during 2015-16. It's a proud moment for each one of us. After a year of hardwork, we have turned around the oldest pharmaceutical company of India.
Let me share with you the performance summary of the Company and key highlights of our turnaround:
| Performance Summary | 2011-12 | 2012-13 | 2013-14 | 2014-15 | 2015-16 |
| --- | --- | --- | --- | --- | --- |
| Production | 59.22 | 36.33 | 19.70 | 64.10 | 106.70 |
| Sales (Gross) | 51.76 | 30.03 | 19.04 | 49.59 | 96.23 |
| Gross Margin | (2.92) | (22.90) | (20.36) | 1.65 | 11.24 |
Key highlights – Production:
BCPL has increased their Production to Rs.106.70 Crores in the year 2015-16 securing a positive growth of 66% over the last year production.
The commercial production at BCPL Kanpur factory has been started after completion of necessary modifications of the existing facility and has contributed production value of Rs.5.23 Crores in the year 2015-16.
BCPL has started production of Providone-Iodine Solution, Clotrimazole cream, Diclofenac Gel (brand name:- Benflame) and Glutaraldehyde from the New Ointment Block. External solution manufacturing facility was also commissioned and trial production was performed from the facility.
BCPL has started production of Amoxicillin 250mg and 500mg at Betalactum block (OSD Section)
Key highlights – Marketing:
BCPL has increased their Gross turnover to Rs 102.11 Crores during 2015-16 compared to Rs 19.04 Crore during 2013-14 with a positive growth of more than five times over the 2013-14.
We have grown by almost 243% in the business of our Pharmaceutical Products as compared to last financial year; the major contribution came from Amoxycillin range (13 Crs), Azithromycin (7 Crs), Ciprofloxacin (5 Crs).
We have grown by 25% in the business of our Home Products; the major contribution came from Pheneol (15.22 Crs), Cantharidine Hair Oil (5 Crs), Naphthalene Balls (4 Crs), White Tiger (3 Crs).
Marketing collection has increased to Rs.82.00 Crores as compared to Rs.44.00 Crores in the financial year 2014-15 which is a increase of almost 86%.
We have reintroduced Povidone Iodine Solution 5% and 10% this year and crossed 1 Cr mark in the range.
Our new introduction Benflam Gel (Diclofenac Diethylammonium Gel crossed 50 Lakhs mark.
In Tamilnadu, we have supplied our Hospital Cleaner (Lysol) worth almost 5 Crs well within delivery schedule even during the recent flood
Our stockist base was increased to 521 this year as compared to 414 of last financial year; which is more than 25% growth.
We have expanded 2 more geographical zones by adding 2 C&F Agents
We have entered into chronic disease segment with the introduction of the popular oral antidiabetic agent Metformin.
Key highlights: HR
Rental collection has increased to Rs.14.50 Crores in the year 2015-16 as compared to Rs.11.40 Crores of last financial year.
Several training and development programmes were organized for the employees and officers as per training calender.
Swachh Bharat Mission was implemented successfully at all the Offices and Depots as per directive of Ministry.
Industrial relation within the Organization was good.

All Statutory norms were complied. 
Key highlights: Finance
Company has completed Annual Accounts by end of May which is the record time achievement.
It is the "FIRST" Company out of all CPSUs who completed their Annual General Meeting on 11th July 2016.
Company has centralized books of Accounts at its Head Office.
Company has introduced bank transfer for all supplier's payments and employee payments and made the company as a cash free transaction company.
Company has received NIL comment certificate from Comproller and Auditor General of India for Accounts of 2015-16.
Company has already completed and filed Cost Audit report for 2015-16 and Tax Audit Reports
I sincerely thank all of our colleagues and Unions for their co-operation and for creating the right ambience to showcase our ability. I am confident that with your whole hearted support and the help extended by the department of pharmaceuticals; BCPL will march ahead towards a Rs 500 Cr company. Dream to transform into a profitable Organization in this year 2016-17 itself.
We together salute the Great legend and our inspiration Acharya P.C Ray for giving us a great organization to work with and it is our duty to hand it over to the next generation in a glorious state.
We have done it and let us continue to excel.
Sincerely yours,
Mr.P.M. CHANDRIAH
Managing Director (In charge)
Director (Finance)